Think Big Thoughts
I recently returned from a school trip to Rome and Greece. Should you ever get a chance to go on one of these larger school trips, I highly recommend doing so. Start saving up now because they can be costly, but are well worth every penny.
In Greece, I was struck by the thought that some people in the past thought big thoughts. This picture to the left is of Agamemnon's fortified city's entrance way. This imposing structure likely served the purpose of impressing and intimidating visitors while similarly reassuring citizens of their own safety and esteemed position in their world.
The partially reconstructed Parthenon to the right similarly impresses even today with its mathematical exactness and beauty. Dedicated to Zeus and Athena (Greek gods of antiquity), the Parthenon seems like man's attempt to impress the gods with human devotion and skill. Considering the thought that the gods were divine, immortal, and possessing power and knowledge far in excess of humanity, this human attempt seems to me all the more surprising and impressive.
The Theatre at Epidaurus, still used today, contains seating for 17000 and enables the spectators in the uppermost seats to clearly hear keys jingling and paper being crumpled and ripped at center stage. Such marvelous acoustics without tech impressed students and adults alike. What wasn't so impressive was that we weren't allowed to sing O Canada as a group. Oh well, we did lay plans for one day having Canada join the Greek empire.
Finally, not quite 200 years ago, the Greeks thought to improve shipping in the region and to do this, they cut their country in half at Corinth. The Corinth Canal joins the Gulf of Corinth with the Saronic Gulf. The ancients attempted to cut through the isthmus at or near Corinth, and the task was completed by Greek nation about 50 years after its liberation from the Ottomans in 1830.
Aside from sharing a few snippets of the trip with you, my intent again is to encourage each of us to think big thoughts – not necessarily to erect huge fortified cities, build massive worship centers, construct architectural wonders or cut landmasses in half – but to dream and to strive for something beyond our current status.
Ambition rightly held can be a powerful force. Wrongly held, ambition can lead to arrogance and selfishness. But rightly held, ambition can help each of us to realize a better future if not for ourselves, then for others. I would encourage each of us to ambitiously seek for greater joy, greater health and happiness, greater opportunity for all, greater knowledge and wisdom, and greater faith. And of course, I would encourage you to also make it your ambition to participate on those school field trips – where to next? Jerusalem? Northern Greece? Hadrian's Wall in Northern England? Europe? Asia?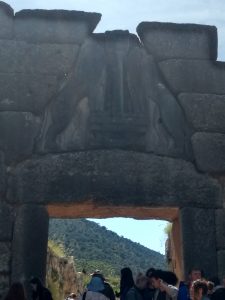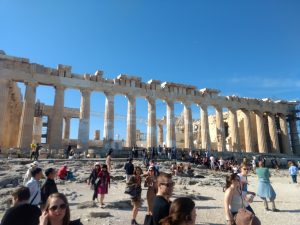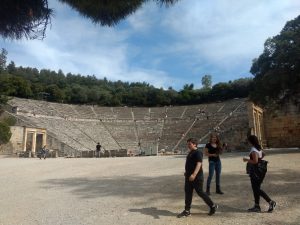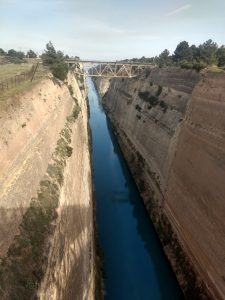 Hello TLA Families,
As mentioned in the last TLA Times newsletter, enrolment/registration for the 2018-19 school year is now open. Please find the link by clicking "admissions" on the main page of the school website at schoolathome.ca.
Please be sure to click 2018-19 Admissions to re-enrol for next year.
We encourage you to re-enrol early. Sometimes teachers and programs do fill up, particularly in our Home, Blended, and Learning Support Services programs. Early enrolment helps us to plan for teacher and program needs for the coming year.
If you are wondering if your enrolment was received: if you receive an email that says "Thank you for submitting an application to TLA!" and you click the link to verify your information, your enrolment has been received and there is no need to call to check. 
If you aren't sure and want to check: simply go back and click the re-enrolment link and you will see a blue star by the children you have successfully re-enrolled. 
What's new in 2018-19:
-a new Two Day Blended grade 9/10 program taught by Mrs. Hahn
-K-12 Outdoor Education program including options for grade 10-12 graduation credits.
-in a decision based on parent feedback, our One Day Blended options in Cloverdale will be consolidated into a One Day Blended grade 3-6 program with a focus on STEM (Science, Tech, Engineering, Math).
-a grade 8-12 Choir program led by Mrs. McEwan at our Hawthorne location.
-online Forensics 11
-any other new courses or programs will be announced to the whole community when they are put in place.
Who to contact:
For questions regarding K-9, contact Steve Borley at sborley@schoolathome.ca
For questions regarding grade 10-12, contact Mary-Anne VanderHorst at mvanderhorst@schoolathome.ca
For questions regarding Learning Support Services and special education, contact Virginia Hooper at vhooper@schoolathome.ca
Thank you, and we look forward to the opportunity to serve your family again in the 2018-19 school year.
Blessings,
Gabe Linder
Calling all girls between grades 4 – 10! Join us for half-day workshops of tech-focused excitement! We are hosting workshops focused on how 3D printers are changing the way we design solutions. We will connect the engineering design process with the usage of digital tools through multi-disciplinary activities.

Parents are welcomed to a parent information session later in the day. Learn why engineering is an amazing career opportunity for your daughter, and how to encourage her to consider all of her options as she moves forward in her secondary and post-secondary education.
Date: Saturday, March 10, 2018
Location: Microsoft Vancouver, 725 Granville St
Times:
Grades 4 – 7: 9:00am – 12:00pm | Registration 8:45am | Parent Session 11:00am – 12:00pm
Grades 8 – 10: 1:00pm – 4:30pm | Registration 12:45pm | Parent Session 3:30pm – 4:30pm
Cost: Free! Snacks + Supplies included.
Registration: http://engcite.engineering.ubc.ca/events/lets-talk-tech/
Hello Families,
A few notes on some upcoming TLA events and activities:
K-9 Vice Principal Steve Borley and I will be visiting families in Prince George and the Vanderhoof area on February 22 and 23. We'd love to connect with as many TLA families as possible while we're up there.

We plan to open enrolment for 2018/19 on March 1. There are no changes to the process from last year, so if you're re-enrolling there should be no surprises.

Students can click here to sign up for TLATalks. TLATalks is an opportunity for students in K-12 to practice public speaking and presentation skills in an online video chat. Depending on the age and quantity of sign-ups, we will determine when and how many sessions we will have. The general idea for the first round is for students to talk for up to three minutes on a topic of their choosing, with or without visual aids. Other spectators and speakers would be invited to log in to form an audience. To start, the audience will only be there for positive feedback, not for questions or criticism. The TLATalks will be moderated by TLA teachers. Link to the

sign-up form is here

.

TLA teacher Melissa Friesen is leading a visit to Telus World of Science on March 12. All students are welcome. Entry is $10, with an option for an Omnimax movie for an additional $5. More details and

sign-up form here.
Here's a photo of the Linder family while in Mexico visiting family over Christmas. The picture is taken at Monte Alban in Oaxaca, a beautiful and impressive archeological site: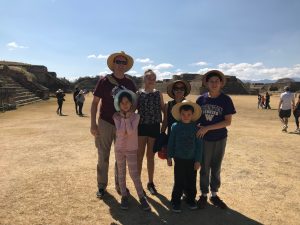 Who is loving watching the Winter Olympics!? They have been on a lot at my house and my kids have been eagerly graphing all the countries' medals this week.  Michelle Johnson posted some awesome links to Olympic activities in February's newsletter and on that same note – I wanted to share the new books we have available in our digital OverDrive library!
Have you been to TLA's OverDrive digital library yet?  You can access OverDrive easily from the main single sign-on page in The Hub where you access all of TLA's online resources.  Look for the OverDrive icon under the Links heading.
You can read these books right from your computer – no need to download an app or use a tablet of some kind.  If you have a phone or tablet and want to use it, the OverDrive app is free.  
Please "return" the book when you are finished reading it so that others can have a chance to read it before the end of the Olympics too! 
Here are some of our new Olympics books : search "Olympics" in OverDrive to see them all on one page.  
G is for Gold Medal : From the first games held in ancient Greece to the cultural extravaganzas of recent years, there have been some incredible and amazing events and milestones in the world of Olympic sports. Now in G is for Gold Medal: An Olympics Alphabet, writer Brad Herzog showcases those athletes and events that not only set sports records but also impacted history and world views. Learn the meaning behind the five interlocking rings featured on the Olympic flag. Cheer on American Jim Thorpe as he won the pentathlon and decathlon at the 1912 Olympics in Stockholm, Sweden, only to lose his medals later. Read how the man dubbed as the "world's laziest high jumper" won the gold in 1968 and later had a jump named after him. All these moments and more are brought to life in G is for Gold Medal.
High-Tech Olympics focuses on the new technologies used in sport today and how they are being used to help train world-class athletes. It also includes diagrams to illustrate how technology has been used to develop state-of-the art sports equipment and an Olympic records table to show how Oylmpic records have changed and some technological reasons why these may have changed.
The World of Olympics looks at the Olympics from a worldwide perspective. It covers nations across the globe that come together to compete, as well as past hosts of The Olympic Games, and the motto and symbols that embrace the Olympic spirit. It also includes Fact File fact boxes, a full list of Modern Olympic and Winter Olympic hosts, and medal tallies of best-performing Olympic nations through history.

Read about a variety of winter Olympic sports with these titles: 
Fiction novels about the Olympics: 
Olympic Dream by Matt Christopher
Anticipating a boring summer before meeting energetic cycling enthusiast Red Roberts, Dough Cannon helps out with the construction of a new bike path and overcomes his personal demons in order to become a young athlete.  

Hour of the Olympics by Mary Pope Osburne
No girls allowed at the Olympic Games! That's the rule when the Magic Tree House whisks Jack and Annie back to ancient Greece. But when Annie tells jack to go to the games without her, he knows she's up to something. Will Annie find a way to see the games? Or will she get herself—and Jack—into Olympic-size trouble? Find out in Hour of the Olympics.
Interested in more titles relating to the history of the Olympics or biographies of Olympians?  Email me (
rshulba@schoolathome.ca
) to let me know!
TLA's leadership team spent some quality time together at Missions Fest in Vancouver a few weeks ago. The three days there were well spent in reaching out to BC families in order to raise awareness of families' educational options in BC and at TLA in particular. Our message of supporting strong families and lifelong learners definitely resonated with many parents who we spoke with. Scores of children enjoyed the Keva blocks and Rubik's cubes that we brought, and passers-by sometimes dipped in for just a candy, and that's fine too. I was inspired by the passion and energy that our leadership team demonstrated (and the teachers who helped – Suzanne Uher and Peggy Smart); I was pleased that so many people wanted to know more about TLA; and felt particularly blessed to connect with a great many current TLA families and alumni who stopped by to say hello.
Seeing current families and alumni at Missions Fest was a great reminder that while we support strong families, TLA becomes for many families and staff a form of extended family in itself. In fact we heard words to that affect in some of the many testimonials that generously came in after I sent out a request for you feedback. Feel free to have a look at some of those testimonials on our website here: http://schoolathome.ca/testimonials/ What I think you'll find evident in these testimonials is an appreciation for the partnership between school and family marked by kindness and love that is the hallmark of TLA.
Happy New Year!  I was excited to receive some submissions for my Book Review this January and a big thank you to everyone who participated!  Each submission received a FREE BOOK PICK from the Scholastic Reading Club Flyers.  Here's one of the book review submissions from TLA student, Regina Pelletier :
The Story of a Bookworm by Regina Pelletier
          Wonderland Creek, by Lynn Austin, is set during the Great Depression, featuring twenty-two year old Alice Grace Ripley, who travels far from her home in Illinois down to the beautiful mountains of Kentucky, to find a purpose in life while growing stronger in her relationship with God. When I read Wonderland Creek, it astonished me because at the beginning, the heroine's life was so like my own. I could identify with the very first line "If my life were a book, no one would read it." This book was absolutely impossible to put down! Mrs. Austin is the author of over twenty historical fiction books, written for boys and girls in their late teens, and all her stories have a good Christian theme. For instance, in every book she reminds her readers that God is always there for us, no matter what. Alice discovers this in Wonderland Creek, as she struggles to understand God's ultimate plan for her life. This book is perfect for curling up in a chair on a rainy day. My only regret on finishing Wonderland Creek is that it does not have a sequel. With many simple, original characters, this book will leave you wanting more of Lynn Austin's delightful repertoire.
And speaking of Scholastic Reading Club flyers, did you know that you can order from Scholastic online now?  This makes it so easy to order from the flyers that are all accessible online through your personal Scholastic account.  Parents should go to
Scholastic Reading Clubs
, choose "First Time Here? Parents", then search for our school via our postal code : V3S 7X1 .   Our school name will pop up and I'm the only teacher listed : Rebecca Shulba.  Now you can peruse the flyers by clicking "Shop Flyers".  My favourite way to do this is by choosing the age group I want to see but then pressing "Download student flyer" because I like to page through them instead of just looking at a black and white list of books!
If you order from Scholastic, your order comes to me and I send all the orders in together at the end of every month.  Your books get shipped to me at TLA because but if you're from somewhere other than the Lower Mainland, you can connect with me via email about paying a fee of approx. $15 for shipping them to you directly.  (Please note : families cannot use their consumable grant for their Scholastic orders.) rshulba@schoolathome.ca
Spring Break Tours

With spring break just around the corner, SFU will be hosting a number of expanded tours to accommodate all of their campus visitors and to provide more information about undergraduate academic opportunities on campus. Spring break tours will begin in late March. Please keep an eye on their tours website for updates and registration.